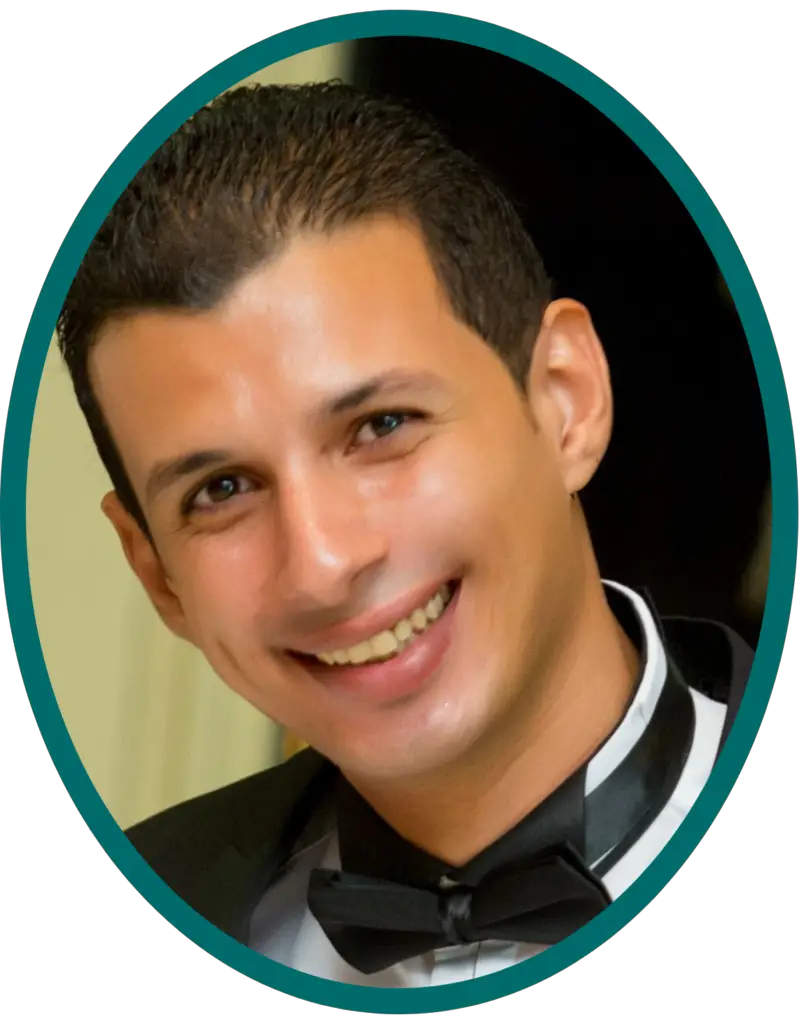 Hello and welcome! I'm Dr. Farahat, a dedicated gastroenterologist, gut health enthusiast, passionate researcher, and proud founder of Oh-MyGut.com.
But beyond my professional life, I'm a husband, father, avid reader, and self-improvement enthusiast.
I've been immersed in the medical field for over 15 years (My first year in medical school was in 2006), specializing in gastroenterology and hepatology. My journey has been fueled by a deep-seated curiosity and a desire to make a difference in people's lives. This passion extends beyond my practice – it led me to create Oh-MyGut.com, a platform dedicated to providing accurate, doctor-generated information about gut health.
YOU'LL LIKELY FIND ME WITH MY NOSE IN A BOOK when I'm not delving into the latest research or working with patients. Reading has always been a source of joy and inspiration, whether a gripping novel or an enlightening non-fiction piece. It's a habit that enriches my mind and helps me unwind after a long day.
Research is another passion of mine. The pursuit of knowledge and the thrill of discovery drew me to medicine in the first place. Today, they drive my work on Oh-MyGut.com and my ongoing clinical research projects. I firmly believe that continuous learning is key to being an effective doctor and health advocate.
But perhaps the most rewarding part of my life is being a husband and father. My two lovely wife and children, Ahmed and Adam, bring so much joy and fulfillment to my world. They constantly remind me of what's truly important in life and inspire me to be the best version of myself.
I'm also a big believer in self-improvement and productivity. I'm always looking for ways to grow personally and professionally and make the most of my time. Whether adopting a new productivity tool or trying a personal development technique, I love exploring strategies to help me lead a more balanced and fulfilling life.
Through Oh-MyGut.com, I hope to share my knowledge and experiences with you, helping you navigate your health journey. Thank you for being here. I look forward to connecting with you!
I believe it's high time for doctors to lead the online health space. Non-doctors generate the majority of health-related content. We can do better. Instead of just fact-checking or reviewing, doctors should be the original creators of content instead of just fact-checking or reviewing, especially for medical topics requiring expert answers.
This is crucial for the validity and safety of online information. As doctors, we are responsible for protecting our patients from low-quality and biased health content on the internet.
Core Values of Oh-MyGut.com
1. Doctor-Created Content:
Your health is not up for negotiation. Every day, millions of people turn to search engines for health advice. A wrong or misleading answer can negatively impact your health. That's why experts in the field write all the content on Oh-MyGut.com.
2. Evidence-Based, In-depth Answers:
We fact-check every paragraph to ensure that the content you read is accurate, up-to-date, and easily understandable. We don't believe in anecdotal medical advice.
3. Best User Experience:
We strive to communicate complex information in a clear, helpful, and unbiased way. Our content is scannable and easy to read, enriched with mini-infographics to enhance your understanding.
A piece of biased health information can be as dangerous as a wrong medication.
---
Professional Data
About Dr. Farahat, I.
I am a Gastroenterology, hepatology, internal medicine doctor, husband, and father. Currently a practicing specialist and assistant lecturer at the Department of internal medicine, Minia University, and the Minia University Liver and Digestive System Hospital.
Also, I am an IBS sufferer with a long history of recurrent diarrhea flare-ups and abdominal pain (since 2008).
Contact Emails:
drfarahat@oh-mygut.com The primary email to contact me about anything related to this website.
islam.farahat@mu.edu.eg  This is my official University email. Contact here if you are a peer gut doctor or want clinical research collaborations.
Career and professional:
2006 (+14 years in medicine): Joined the faculty of Medicine at Minia University. (A leading Egyptian university ranked as

one of the top 30 universities in Africa

).

2012, Dec: Graduated.

March 2013 – March 2014: internist at Minia University Hospital.

May 2014 – March 2018: Resident of internal medicine & Hepato-gastroenterology.

Feb 2018: Master's Degree in Internal Medicine & Hpatogastroenterology; My first published paper and verified Google Scholar profile is here.

 

March 2018 – Present: Gastroenterology & Hepatology specialist, Assistant lecturer & Ph.D. student & researcher in gastroenterology and hepatology.

Future prospectives: I am working on two large clinical research projects with my professors and exploring the world of endoscopic ultrasound [EUS] at Cairo University with

Professor Hussein Okasha

(

the pioneer of EUS in Egypt and one of the leading experts in the Middle East).
The image below is from MY FACEBOOK PROFILE showing Me & Prof Oksasha at our 6th Minia university liver hospital annual conference.